Newest Children's Non-fiction Book:
Doll Crafts : A Kid's Guide to Making Simple Dolls, Clothing, Accessories, and Houses
by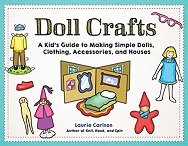 Dive into the wonderful and creative world of doll arts and crafts with this easy-to-follow activity book packed with over 50 projects and a dozen patterns.
Using inexpensive, everyday, even recycled materials, you'll make clever paper dolls, simple folk art dolls, soft cuddle pals, or 18-inch felt dolls, as well as cute and easy doll clothing, accessories, and basic houses. Clear instructions and illustrations guide you as you learn to make and paint a cloth doll; recycle and refresh an old doll; make simple, silly dolls from spoons, yarn, sticks, and more; make a dollhouse you can fold up and tuck under your bed; and much more.
---
---
Older Children's Non-Fiction:
2015
Out of the Woods : A True Story of an Unforgettable Event, by (July 27th)
The League of Outsider Baseball : An Illustrated History of Baseball's Forgotten Heroes, by (July 8th)
The Boys Who Challenged Hitler : Knud Pedersen and the Churchill Club, by (June 8th)
One Plastic Bag : Isatou Ceesay and the Recycling Women of the Gambia, by (May 19th)
Winnie : The True Story of the Bear Who Inspired Winnie-the-Pooh, by (April 27th)
El Deafo, by (March 30th)
Frozen Hairstyles, by (March 10th)
2014
Creating Pipe Cleaner Crafts, by (December 29th)
Here Is the World : A year of Jewish Holidays , by (October 6th)
Gravity, by (September 8th)
The Girl from the Tar Paper School: Barbara Rose Johns and the Advent of the Civil Rights Movement, by (August 18th)
A Boy and a Jaguar, by (August 12th)
Park Scientists: Gila Monsters, Geysers, and Grizzly Bears in America's Own Backyard, by (August 5th)
Plants Feed Me, by (July 7th)
Zoobots : Wild Robots Inspired by Real Animals, by (June 25th)
Stone Giant: Michelangelo's David and How He Came to Be, by (May 27th)
Mysterious Patterns : Finding Fractals in Nature, by (May 19th)
The Cart That Carried Martin, by (May 12th)
The Animal Book : A Collection of the Fastest, Fiercest, Toughest, Cleverest, Shyest --and Most Surprising-- Animals on Earth, by (March 25th)
Handle with Care : An Unusual Butterfly Journey, by (March 10th)
Parrots Over Puerto Rico, by (March 4th)
Rutherford B., Who Was He? : Poems about Our Presidents, by (February 24th)
Clara and Davie, by (February 17th)
Adventures in Cartooning : Characters in Action!, by (February 3rd)
Lincoln's Grave Robbers, by (January 20th)
Fourth Down and Inches : Concussions and Football's Make-or-Break Moment, by (January 13th)
Volcano Rising, by (December 26th)
No Monkeys, No Chocolate, by (December 16th)
The President Has Been Shot!: The Assassination of John F. Kennedy, by (December 2nd)
The Tree Lady : The True Story of How One Tree-Loving Woman Changed a City Forever, by (November 25th)
Lives of the Scientists : Experiments, Explosions (and What the Neighbors Thought), by (November 18th)
Jeff Kinney, by (October 28th)
See What A Seal Can Do, by (October 21st)
Walt Disney : The Man Behind the Magic, by (October 15th)
How Do You Burp in Space? : And Other Tips Every Space Tourist Needs to Know, by (October 7th)
LEGO Play Book : Ideas to Bring Your Bricks to Life, by (September 27th)
Battle of the Dinosaur Bones: Othniel Charles Marsh vs. Edward Drinker Cope, by (September 16th)
Lost Cities, by (September 2nd)
Rick Riordan, by (August 12th)
Saving the Environment, by (July 26th)
Dav Pilkey, by (July 16th)
The Impossible Rescue: The True Story of an Amazing Arctic Adventure, by (June 24th)
Stronger than Steel: Spider DNA and the Quest for Better Bulletproof Vests, Sutures, and Parachute Rope, by (June 17th)
Follow Follow : A Book of Reverso Poems, by (June 10th)
Miracle Mud: Lena Blackburne and the Secret Mud That Changed Baseball, by (May 20th)
Henry and the Cannons: An Extraordinary True Story of the American Revolution, by (May 13th)
Can You Survive an Earthquake?: An Interactive Survival Adventure, by (April 29th)
Alien Deep: Revealing the Mysterious Living World at the Bottom of the Ocean, by (April 16th)
The Fantastic Jungles of Henri Rousseau, by (April 8th)
The Technology of Basketball, by (April 2nd)
Eye Candy: Crafting Cool Candy Creations, by (March 9th)
Brothers at Bat: The True Story of an Amazing All-Brother Baseball Team, by (February 25th)
Bomb : The Race to Build - and Steal - the World's Most Dangerous Weapon, by (February 18th)
Guinness World Records 2010 (April 26th)
Open Me Up: Everything You Need to Know About the Human Body, by (January 22nd)
Big George: How a Shy Boy Became President Washington, by (September 21st)
The Frog Scientist, by (September 14th)
Extreme Scientists: Exploring Nature's Mysteries from Perilous Places, by (August 8th)
Getting Ready for the Fair, by (July 13th)
Bees, Snails & Peacock Tails, by (March 23rd)
Helen's Eyes: A Photobiography of Annie Sullivan, Helen Keller's Teacher, by (March 9th)
Our White House: Looking In, Looking Out, by (March 2nd)
Frogs, by (February 23rd)
What the World Eats, by (January 20th)